Branch Blog - White River Junction
Thu, February 16, 2012 • Dr. Sketchy WRJct Meets the King!
Elvis rocks the house! Both performing and posing, you won't want to miss our top-notch Elvis impersonator. Whether you are an artist or not, this is going to be a rockin' show with cheap drinks, lots of fun door prizes, and a special cake to celebrate the 1st year anniversary of Dr. Sketchy of White River Junction!
Admissions is $10 at the door or $8 in advance at http://www.drsketchy.com/branch/whiteriverjunction. The advance purchase button doesn't work 100% of the time, so if it gives you trouble please email Miss Phoebe at [email protected].
Wednesday, February 29 from 7:00pm to 9:30pm at the American Legion in beautiful downtown White River Junction VT.
RSS
NYC Events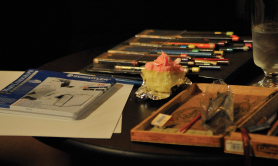 Art Tumblr
https://vimeo.com/81362468