Branch Blog - Akron, Ohio
Thu, February 28, 2013 • Dr. Sketchy's Akron Decadent Life Drawing Spectacular
You've asked (even begged) for longer poses, and honestly, we're a bit overdue on throwing a gianormous thanks to all you amazing Art Monkeys who make all our efforts worth it, so, Dr. Sketchy's Akron is proud to present...
...our very first extended session with 6 hours of drinking and drawing, Long poses, Burlesque performances, 3 sexy models including Doll Bambino, Fantasie D.Light, and in from New Orleans.. Cherry Brown!!! We'll have more games n' prizes, catered food, and it's all for you!!
Make your reservations now at http://www.drsketchyakron.com and we'll make this the most amazing session yet!
Sunday, March 3rd
The Lounge
370 Paul Williams Downtown Akron, OH
(above 69 Taps)
drawing from 2pm to 8pm
Pre-Sale Reservations are only $20!! (available through Friday March 1st)
admission on the day of the show will be just $30 at the door.
drsketchyakron.com
18 to draw 21 to drink
RSS
NYC Events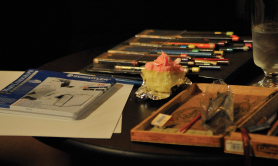 Art Tumblr
Dr Sketchy's LA 12/3/13 (pt. 1)
artofach.blogspot.com
http://drsketchy.tumblr.com/post/69132640329