Fri, March 02, 2012 • Dr. Sketchy's Austin presents GoGo McGregor
Dr. Sketchy's is what happens when cabaret meets art school.
Join us at our new home at Volstead Lounge on east 6th street this Sunday for an evening of drinks, drawings & one fabulous dame: GoGo McGregor!
Dr. Sketchy's is a life drawing class turned cabaret extravaganza. Artists draw glamorous underground performers, compete in contests, and win booze and prizes. From its humble Brooklyn beginnings, it's spread to 100 cities on five continents- including London, Rome, Tokyo, Paris, Sao Paulo and Melbourne.
Dr. Sketchy's Anti-Art School – the premiere alternative drawing movement in Austin – features costumed live models, prizes and booze! All kinds of artists are welcome, from the complete amateur to the advanced. Open to everybody! You're a terrible artist? Who cares! Don't forget to bring your own drawing materials.
GoGo McGregor is an award winning Burlesque dancer, and has been traveling and performing all over the country for the past five years. She's known nationally for her gorgeous feather fan dancing, as well as her death defying bed of nails Burlesque! With "the face of a pin up and the mouth of a sailor", this gal's cheeky and playful, yet seductive performances are guaranteed to leave audiences smiling from ear to ear. She has been known to tour the country with such acts as The 999 Eyes Freakshow & Sideshow (Austin), Beggars Carnivale (St. Louis), The Show Me Burlesque Tour, and her most recent project The VagaBandits (New Orleans). GoGo mixes the class of old Burlesque with the fun and excitement of the Circus & Sideshow. She's won such awards as "Best Burlesque Performance" St. Louis 2010 River Front Times, was named champion of the national Shimmy Showdown 2010 and voted #32 in "Top 50 Burlesque Performers in the World" 2011 (21st Century Burlesque). Besides Burlesque and Sideshow, GoGo is also a stunning emcee, pin up model, Vaudevillian and seamstress.
Don't miss your chance to see this gorgeous gal in action! She will be performing in between poses.
Photo of GoGo McGregor by Ivy Lynn
Prizes from Baby Tattoo Books, and What Katie Did lingerie.
Admission is $10 at the door, or payable in advance via paypal.
RSS
NYC Events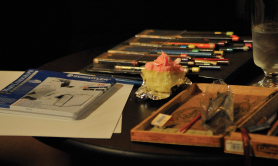 Art Tumblr
Dr Sketchy's LA 12/3/13 (pt. 1)
artofach.blogspot.com
http://drsketchy.tumblr.com/post/69132640329