Branch Blog - Jacksonville, FL
Tue, April 19, 2011 • Dr. Sketchy's JAX's new home!
Tonight's the night, ArtMonkeys! We are so excited; we hope to do you proud in our flashy new home at The Metro! We've got a new home and an old night, kiddos! It's time for you ArtMonkeys to drink, I mean...sketch! in style. But don't take my word for it; let's see what the website has to say! "Club Shadows is North Florida's Premier Show Bar featuring a full bar, show room seating, standing room, and plenty of entertainment." Full bar? Show room seating? Plenty of? Entertainment?! Rock on, ArtMonkeys. We gon' bring it. Dr. Sketchy's Anti-Art School JAX is the art class with no class. A burlesque themed life-drawing event reliant on drinking, drawing, and debauchery. With ridiculous contests, fantastic prizes from local and international sponsors, Dr. Sketchy's JAX is the low art drawing class you didn't even know you needed! Dr. Sketchy's JAX is proud to be sponsored by
http://www.babytattoo.com
http:,//www.boldcitybrewery.com,
http://www.whatkatiedid.us.com
and O,m Nom Nom Chocolates! Wednesday, April 20th Club Shadows @ The Metro 2929 Plum St. 32205 Ticket Info: $6 for ArtMonkeys (Sketchpad in hand!) $8 for Voyuers (Yer jist staring!) Come join the Duval Demimonde!
RSS
NYC Events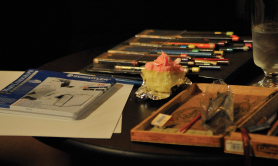 Art Tumblr
https://vimeo.com/81362468