Branch Blog - Knoxville, Tennessee
Mon, November 14, 2011 • Dr. Sketchy's: Knoxville - Giving Thanks for the Man from Baltimore!
Dr. Sketchy's Knoxville was pleased to present our third session, which will now take on an annual NOVEMBER tribute theme, in order to give thanks to a fellow artist who's inspired so many of us. Our first, tribute session was dedicated to the man from Baltimore, JOHN WATERS. Eager fans of the film genius showed up to celebrate the art and the unique perspective on life that this famed director, producer, actor and screenwriter have given us. All photos by Katie Ashdown. Art Monkeys unite at Old City Entertainment Venue in Knoxville, TN (above).
The evening's performances were kicked off by Salome' Cabaret's own Big Gay James who did a great drag number to "Good Morning Baltimore" from Hairspray, the Musical. We later delighted in sketching James' Tracy Turnblad which produced great art focusing on "negative space" which is where those who don't understand John Waters' art, often inhabit.
We then delightedly sketched the fleshy, rebel goodness which paid homage to Ramona Ricketts from Cry Baby - nicely adapted by Salome' Cabaret's own Siren Santina.
Then, the "Devil's Older Sister", burlesque performer, Beelzabetty took to the stage to enlighten us about a BALTIMORE staple that you don't want to take home the morning after. Here's a pic of her beginning her popular piece entitled "Crabs".
Art Monkeys - hard at work...drinkin, drawing...well, you know; were then serenaded by our uke songstress, Shawdi Naimy and her rendition of "Screw Loose" from the Cry Baby Musical.
Truth is, the pièce de résistance, was yet to be sketched. For, awaiting the art monkeys able sketch pads was our very own Dr. Sketchy's Knoxville's Artistic Consultant, Rob St. Clair, who floored us with his homage to DIVINE from Pink Flamingos. I mean, seriously...he is a vision and a locally-grown inspiration here in Knoxville...
Some incredible sketches were produced and we are always floored by the talent who attend Dr. Sketchy's here in Knoxville. We are also continually impressed by the new faces and brave non-artist art monkeys who step up and try their hand at the sketchin'. All in all, I think we did Mr. Water's proud and hope to invite him again to another session sometime soon - we will be sending him the pictures and a thank you note from all of us at DSK for being an ongoing source of seedy inspiration. We love you JOHN WATERS!
Happy art monkeys Delinda d'Rabbit and John Latham show off their sketchin' skills. Another session is in the bag and folks, that's a wrap.
RSS
NYC Events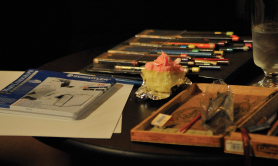 Art Tumblr
Alvin Black III
Frosty's going to melt…at Jingle Belle, Dr Sketchy Chicago Branch
Model: Rhonda Vous

my work on facebook: https://www.facebook.com/AlvinthethirdPainting
http://drsketchy.tumblr.com/post/70620589200