Fri, November 09, 2012 • Dr. Sketchy's Philadelphia presents "Nouveau November" at our new home Arch Enemy Arts
Poster design by Robert Kraiza
Dr.Sketchy Philadelphia presents "Nouveau November", a tribute to Alphonse Mucha and the Art Deco movement. Hosted by Arch Enemy Arts, named "Best Art Gallery" by the Philly Hot List.
Join us as we pay tribute to one of the masters of this era, Alphonse Mucha in a transition of seasons, costumes, sets and lighting.
Lorna Doom, the fiery red head from our Tattooed Muses session will be donned as the embodiment of Autumn. Art Monkey favorite, D'Arcy D'Lux makes the journey down from the mountains of PA to portray Winter for this special session at out new home, Arch Enemy Arts.
A Sunday session means free street parking! The Gallery is also conveniently located a few blocks from public transit. (Market line and Patco)
Session is $12
RSS
NYC Events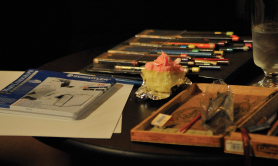 Art Tumblr
Dr Sketchy's LA 12/3/13 (pt. 1)
artofach.blogspot.com
http://drsketchy.tumblr.com/post/69132640329