Branch Blog - Lethbridge, Alberta
Tue, August 10, 2010 • Dr. Sketchy's Traveling Road Show!
As promised, we are taking Dr. Sketchy's on the road!
This month Dr. Sketchy's Lethbridge is traveling into the Crowsnest Pass to experience the performance art hilarity of Frankie Slide and Rocky Rock. To track their adventures and prepare your mind follow them on myblairmore.com
You don't have to be *able* to draw, butcha gotta draw!
We'll be going on a scenic historical tour as well as drawing models. This will be unlike any drawing adventure you have ever had! We also have activities, prizes and some refreshments. Feel free to bring any size sketchbook you want – though we may not be sitting for some of the drawings.
We encourage caravaning up to the pass – if you have space in your car or are looking for a ride leave a message on the facebook event wall.
Hopefully, all of you can make it on our little adventure!
Oh and did I mention it was FREE!
Bisous, Lady K Divine
RSS
NYC Events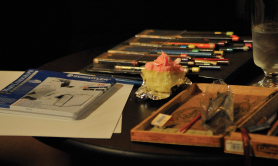 Art Tumblr
https://vimeo.com/81362468