Fri, January 04, 2013 • Dr.Sketchy Philadelphia presents, "A Study in Surrealim"
Celebrate absence of all control exercised by reason.The superior reality of certain forms of previously neglected associations. The omnipotence of dreams.
Artists such as Dalí, Man Ray and Magritte will inspire, while the music of Edgard Victor Achille pulls at our subconscious.
Glamazon Miss Mary Wanna returns as our mysterious muse and is joined by model Mojo Licious. These beauties transcend time and space and are armed with an arsenal of wild costumes for your drawling pleasure.
Imbibe your senses with the aromatic flavors of our sponsor Hendricks Gin!
DJ John Burke will be our dashing master of tunes.
https://www.facebook.com/DJJohnBurke?ref=ts&fref=ts

Tickets are available at the door or online at...
http://www.eventbrite.com/event/5066881178
RSS
NYC Events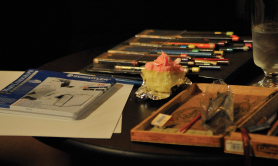 Art Tumblr
Dr Sketchy's LA 12/3/13 (pt. 1)
artofach.blogspot.com
http://drsketchy.tumblr.com/post/69132640329