Mon, February 04, 2013 • Dr.Sketchy Philadelphia presents "For the Love of all things Tiki"
Aloha Art Monkeys!
Is the cold Philadelphia winter weather cramping your style? Do you dream of swaying palm trees, fruity drinks in pineapples and gorgeous hula girls dancing about? Then dust off your lei and make your way down to this fantastic session!
Polynesian Pop Culture will be running over like lava from the mountain with beautiful models Kelli Tiki Baby and Naimah Goddess from the coast.
Sailor Jerry will provide the libations and DJ John Burke will be returning to spin the tunes!
Hope to see you at this mini-vacation Monkeys!
Mahalo,
Candy Mayhem
Tickets are available at the door or at...
http://www.eventbrite.com/event/5067009562
RSS
NYC Events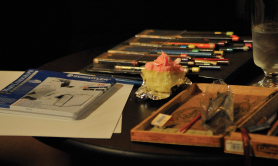 Art Tumblr
Dr Sketchy LA 12-3-13
http://drsketchy.tumblr.com/post/69027079376