Wed, September 14, 2011 • Dr. Sketchy's Seoul's very first session: Bunny Bunny Circus
Hello internet folks!
Here are photos from our very session of Dr.Sketchy's Seoul at Cafe Cabinet: The Bunny Bunny Circus, featuring the very gorgeous fashion model, Hae-Kyung!
Give our beautiful model Hae Kyung and our photographer Yi Chon Kim a big hand!
Extra thanks to our host kkotsap and our art monkeys Jay Shin, Yunhee Kim, Jaeyeon Oh and Ruth Kim!
Thank you to all the people who attended our first session!
Next session is scheduled in the evening on September 24th @ Cafe Cabinet.
Our next session will feature an exotic belly dancer! See you next session!!
RSS
NYC Events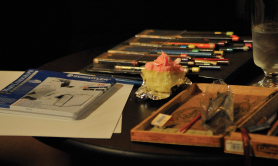 Art Tumblr
https://vimeo.com/81362468