Greetings everyone!
Dr. Sketchy's Seoul held its second session at Cafe Cabinet, hosted by kkotssap. This session takes us to a far, far away place ...
... starring the beautiful belly dancer Ella, who gave us an amazing belly dance performance during our session!
Merhaba,...
Read Full Article
Hello internet folks!
Here are photos from our very session of Dr.Sketchy's Seoul at Cafe Cabinet: The Bunny Bunny Circus, featuring the very gorgeous fashion model, Hae-Kyung!
Give our beautiful model Hae Kyung and our photographer Yi Chon Kim a big hand!
Extra thanks to...
Read Full Article
RSS
NYC Events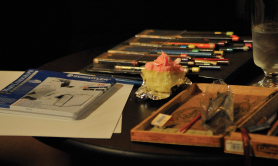 Art Tumblr
https://vimeo.com/81362468