Branch Blog - Hamilton, New Zealand
Tue, February 21, 2012 • Dr Sketchy Hamilton is LOVED up
Yes folks February is the month of LOVE!
LOVE is Dr Sketchy...Love is..gorgeous burlesque gals...love is drinkies at the bar...Love is...art, drawing, sketching...observing..Love is Dr Sketchy Friday 24 February 7pm, $10 at the door..Love is..Honey L'Amour, Ms Ooh La La Paree, Azure D'Murre & the fabulous Dolly D'Ville - do it fall in love with Dr Sketchy Love is session!
In Hamilton town, Friday 24 Feb, sharpen your pencils, sketch books, paper to the ready!
RSS
NYC Events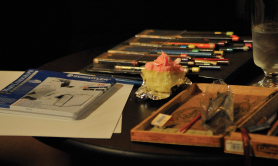 Art Tumblr
Dr Sketchy's LA 12/3/13 (pt. 1)
artofach.blogspot.com
http://drsketchy.tumblr.com/post/69132640329