Thu, September 20, 2012 • Dr Sketchy - Portsmouth Branch!
Hello all,
a quick note to say i (being joe black) am very pleased and honoured to become a part of the dr sketchy family!
all details on upcomings events and also on the dr sketchy portsmouth website to be released soon. please do watch this space!
many thanks!
JB
RSS
NYC Events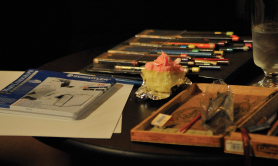 Art Tumblr
Alvin Black III
Frosty's going to melt…at Jingle Belle, Dr Sketchy Chicago Branch
Model: Rhonda Vous

my work on facebook: https://www.facebook.com/AlvinthethirdPainting
http://drsketchy.tumblr.com/post/70620589200