well, the launch party of the first ever dr sketchy event to be held in portsmouth (UK) was a success!
a wonderful audience, wonderful performances.. and most of all - a wonderful atmosphere.
prizes were won, drinks were drunk and fun was had.
photos will be up soon.
and details...
Read Full Article
Hello all,
a quick note to say i (being joe black) am very pleased and honoured to become a part of the dr sketchy family!
all details on upcomings events and also on the dr sketchy portsmouth website to be released soon. please do watch this space!
many thanks!
JB
...
Read Full Article
RSS
NYC Events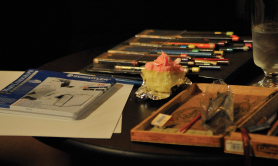 Art Tumblr
https://vimeo.com/81362468