Branch Blog - Lethbridge, Alberta
Mon, August 23, 2010 • Dr Sketchy's at the Lethbridge ArtWalk
If you can't make it to the Traveling Road Show this Sunday in Blairmore, DO NOT DESPAIR! Dr. Sketchy's Lethbridge is coming to ArtWalk in September! Thats right we're going to be in Galt Gardens IN A FREAKING TENT! We're going to decorate so look for glamour and frivolity!
We'll have 30 minute drawing sessions every hour - starting at 10am. We'll also have 30 minute breaks so that all of you can wander around and enjoy the artyness of Lethbridge. With multiple models, we'll be able to have some amazing poses! We even hope to have long and short poses going on simultaneously - so everyone will be happy!
This is an all ages drawing session so bring ONE & ALL to the tent to draw! You don't have to draw well - butchya gotta try to draw at least. We'll be out doors so you may want to consider bringing, besides your regular drawing supplies - a drawing board/easel, a lawn chair or blanket, sunscreen, a hat and water. Of course, we'll have random drawing contests throughout the day too!
We're pretty excited, so we hope you come play with us... Oh and by the by, this is a FREE event! The AAC is helping us out and the models are all volunteering! Thanks models and Allied Arts Council!
Did I mention we are in a TENT! Wheeeeee! Bisous, Lady K
PS Add your RSVP to the
facebook event group.
RSS
NYC Events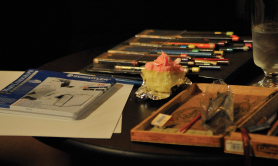 Art Tumblr
Dr Sketchy's LA 12/3/13 (pt. 1)
artofach.blogspot.com
http://drsketchy.tumblr.com/post/69132640329