Tue, December 18, 2012 • Dr Sketchy's Mexican Session - Photos Are Online!
Oh, what a visual FEAST we had this time!
Thanks to our models GOLDEN TREASURE, MINOU MOUSTACHE & HEDOLUXE
All pictures © NINA ZIMMERMANN www.ninazimmermann.com
Dr Sketchy No.32 was again presented by
HELD VODKA
Beloved Sponsor - We salute you!
Wanna see all of the drawings from this session? Then check our Facebook page and klick through.
RSS
NYC Events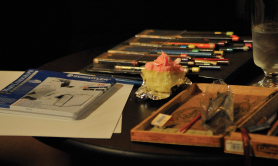 Art Tumblr
https://vimeo.com/81362468