Branch Blog - Nashville, TN
Fri, October 07, 2011 • Dr Sketchy's Nashville Halloween Spooktacular!
Scared to draw? Freightened of booze? Terrified to be titiated? Then rest easy, friends, because Dr Sketchy's Anti-Art School Nashville can sooth the savage beast! Join us Sunday, October 16th at The Five Spot from 6 pm to 9 pm. Costume contest participation encouraged, candy consumption a possibility, and libation recreation a certainty. As always, $10 to draw, $5 for perverts, Nicole Kidman gets in free.
Be there for a howlin' good time, or we'll continue the bad Halloween cliches!
RSS
NYC Events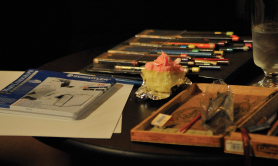 Art Tumblr