Branch Blog - Nashville, TN
Fri, August 13, 2010 • Dr Sketchys Nashville Now Booking Private Parties
Do you love Dr. Sketchy's? Want to find a way to make it all yours to add something unique and unexpected at your next event?
Well, Dr. Sketchy's Nashville will now come to you. Hire Dr. Sketchy's Anti-Art School Nashville for your party! The New York Dr. Sketchy's branch has been doing this successfully for a while now and so we figure..... now it's Nashville's turn.
Here are some testimonials from some private NYC Sketchy's parties! -
So many of us work with products and brands that wouldn't exist without people. Studying, interpreting and contemplating the human form is a huge reminder that our companies are communicating with living, breathing bodies. Dr. Sketchy's is an invigorating opportunity to reconnect with life. You're not only sketching it, you're laughing and smiling and discovering all sorts of facets. -- Matthew Donovan, development specialist, What If! Innovation
Our classy cocktail party was sent into the next dimension by the appearance of Molly Crabapple and two models to present Dr. Sketchy's life drawing for us. I don't think our Central Park West crowd had ever seen anything like it. Molly and company were fun, sexy, and witty. We loved having them make a splash at the party and it definitely was the talk of the town afterwards. Thank you Molly and your Dr. Sketchy's crew. -- Kevin Fitzpatrick, president, the Dorothy Parker Society
We do...
birthdays (not for kids) bachelor / bachelorette parties corporate functions corporate parties private parties of all kinds
You decide the theme, what sort of models you want, the sexiness (or lack thereof), and the general vibe, and we take care of the rest.
Each Dr. Sketchy's party is hours of drawing, drinking, and artistic shenanigans.
We can...
Suggest venues to rent (or you can choose your own). Provide models (you decide if you want guys or girls, dressed or undressed, sexy burly-q girl, fetish goddess or rockstar derby babe). Provide emcees to keep everything snappy. Bring swanky prizes for people to win. Supply a photographer to immortalize it all (or provide blackmail material) Find fantabulous entertainment to perform during breaks. Whether you want burlesque queens, sideshow performers, jugglers or magicians , we're friends Nashville's BEST performers. Bring sketchpads, pencils, and other art supplies. Costs vary depending on your party.
So, drop us an email at
[email protected]
with
Details about your party Number of attendees Date you'd like to throw it Any ideas you might have on theme/style etc... and we will work with you to add Dr Sketchy's to your next unforgettable event!
RSS
NYC Events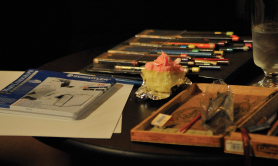 Art Tumblr
Dr Sketchy LA 12-3-13
http://drsketchy.tumblr.com/post/69027079376