Branch Blog - San Francisco, CA
Fri, April 20, 2012 • Drawing Marathon tomorrow at Tease-O-Rama!
Dr Sketchy's SF presents a Tease-O-Rama Burlesque Drawing Marathon

Saturday April 21st, 2012
2-4pm. 18+
FREE
Our models:
Coco Lectric
Tana the Tattooed Lady
Ms. Redd
TwinkleToes McGee
Burgundy Brixx
GiGi La Femme
Lucy Flawless
We are going to run this session as a NON-STOP drawing marathon, all 15 minute poses, with no breaks. Models come and go as they feel. Artists draw or take breaks as they need it.
Since this is a free event, we are asking that you bring tip money and consider donating artwork to the models. Johnny Crash can photograph your artwork!
Holiday Inn Fisherman's Wharf'
1300 Columbus Avenue
San Francisco, CA 94133

RSS
NYC Events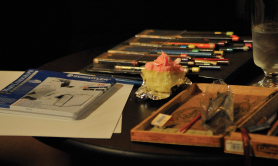 Art Tumblr
Dr Sketchy's LA 12/3/13 (pt. 1)
artofach.blogspot.com
http://drsketchy.tumblr.com/post/69132640329