Branch Blog - Knoxville, Tennessee
Mon, December 12, 2011 • DSK presents "THE STEAMPUNK SIDESHOW"
Dr. Sketchy's Anti-Art School Knoxville made the decision that each year we'd offer a unique spin on the "holidays" by doing something non-traditional. This year, we put our collective heads together and the answer was simple, produce THE STEAMPUNK SIDESHOW, a variation on a solstice celebration; and thus the December 2011 DSK session was born (all photos are courtesy of the extremely talented Jason R. Scott of Knoxville).
The backdrop was the wonderful venue of Broadway Academy of Performing Arts and Event's Center (BAPA), in Knoxville, Tennessee. We were additionally blessed to have the mood enhanced with a more steam-punkery feel thanks to Doc Quincy E. Quartermain of The Artifice Club and the wonderful background music tableau that he generated for the event.
The evening began with an incredible belly dance performance by performer and model, Jaia of Biz'Cirque and Ananda Dance Company who opened our event with a stunning sideshow themed routine.
She then joined upcoming performer, Ali for a fun twist on posing with the challenge for our art monkeys to add something "absurd" into the mix.
Then our headliner took the floor, the sublimely beautiful Talloolah Love, otherwise known as "The Sweetest T in the South". Talloolah is currently head's up the Atlanta Burlesque and Cabaret Society and as an accomplished burlesque performer, she dazzled us with her Clockwork Doll performance. Our eyes feasted on the flesh we were about to sketch...
The evening flowed beautifully thanks to the fine emcee work of Salome' Cabaret's own Kisa von Teasa who joined us again for this session. Here she is showing off one of our frequent art monkey's handiwork, the incredibly desireable SUSHI SCARF by Tonique of TinyAngryArtMachine.
Just when you think it couldn't get any better, our minds were blown by the hoop artistry of Ali both of Biz'Cirque and Sol-Flow Hoops who took us on a dizzying journey of power and form with a very industrial feel.
Once again the art monkeys who joined us for this inspired day of drinking, drawing and debauchery brought their "A" game and endlessly inspire us to continue to produce these great adventures that combine both performing and visual artistry.
The lights dimmed on our first solstice celebration with a teaser performance of next month's event featuring the beautiful Soubhi and Nur of The Forbidden Fire and Bellydance. Another fine time had by all here at Dr. Sketchy's Knoxville and to all a good night.
RSS
NYC Events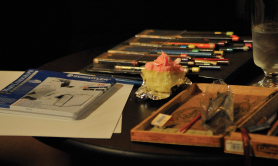 Art Tumblr