Branch Blog - Dublin, Ireland
Wed, June 20, 2012 • Dr. Sketchy School Dublin 2nd Birthday
Dublin summers are usually notable for the grey skies and chill in the air, but on the last Saturday in May, we experienced a bit of a heat wave – ironically, as our theme was better suited to a gloomy day! So, we cranked up the air conditioning, kept the pitchers of ice-cold cocktails topped up and celebrated the 2nd birthday of our branch with a Miss Havisham themed session!
Our models were Blue Ruin and Postmodern Sleeze, while we were treated to the musical stylings of Lady K & Ruby Noir who put a jazzy twist on contemporary songs.
We will be back in 4 Dame Lane on the 30th June in our new later time slot of 5pm to 8pm with a Grease themed session featuring Epiphany DeMeanour and Jonas Wal. Tickets on sale now!
If you cannot wait that long, you can check out our very special sessions for Dublin Pride this weekend at the Little Green Street Gallery. Secure your places by paying a deposit here!
More photos by Cherry Sedition from the session can be found here!
RSS
NYC Events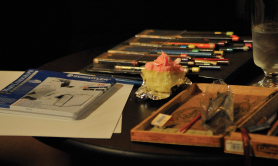 Art Tumblr
https://vimeo.com/81362468