Branch Blog - Dublin, Ireland
Wed, July 10, 2013 • DR SKETCHY'S AT SKY ARTS' PORTRAIT ARTIST OF THE YEAR FESTIVAL
We'll be joining Sky Arts at the RDS, in Dublin, on Sunday 14 July from 10am to 6pm, providing free sessions through the day to celebrate their Portrait Artist of the Year Competition!
Whether you are a professional or amateur, come and join the coolest Art School in town. With three gorgeous models, fabulously attired, propped and posed, Dr Sketchy will bring out the artist in you, with themes including Lichtenstein-inspired Pop Art, the work of Art Nouveau pioneer Mucha and Degas ballerinas. Grab a sketch book and add a bit of glamour to your doodles! To enquire about booking a place please email [email protected]
Starring:
Azaria Starfire
Sade O'Sapphic
Sarah Vixyn
Presented by Scarlett Nymph
For more details see Sky Arts' Website!
RSS
NYC Events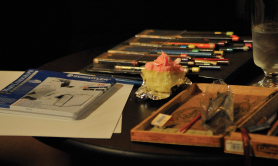 Art Tumblr
https://vimeo.com/81362468