Branch Blog - Dublin, Ireland
Tue, April 23, 2013 • Dr Sketchy Dublin - Blade Runner
Back in September 2012, the Dublin branch hosted a 'Blade Runner' themed event feauring models and performers Azaria Starfire, Rachel Lally and Sarah Vixyn.
Photography from the session was by Kerri Cherry (below) and Rick Taylor (above) The photo gallery is now online on our dedicated branch blog here.
This weekend, the lovely Azaria Starfire is joining us once again, this time for a 'Metropolis' themed session. More info and tickets here.
RSS
NYC Events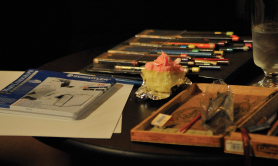 Art Tumblr
https://vimeo.com/81362468