Mon, February 11, 2013 • Endless
Pour souligner le 25e anniversaire de la série "The Sandman" de Neil Gaiman, le 9 février, nous avons eu le grand plaisir de dessiner un trio de modèles posant en trois Éternels! Desdemona von Minx a incarné Death, Safa a posé comme Delirium et M.E.L. était nul autre que le personnage principal, Dream!
***
To mark the 25th anniversary of Neil Gaiman's The Sandman series, on February 9, we had the great pleasure of drawing a model trio posing as three of the Endless! Desdemona von Minx incarnated Death, Safa posed as Delirium and M.E.L. was none other than the main character, Dream!
Pour visionner le blogue complet de la session, visitez : Dr. Sketchy Montréal
***
To view the full session blog, visit: Dr. Sketchy Montreal
RSS
NYC Events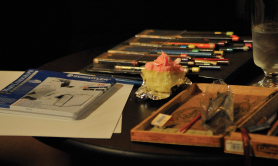 Art Tumblr
https://vimeo.com/81362468