Branch Blog - White River Junction
Fri, November 16, 2012 • Exciting New Changes at Dr. Sketchy of the Upper Valley!
After a slow summer, our branch really kicked things back into high gear with our presentation of "Alice in Vampireland." This session featured our youngest-ever model (Fiona B., age 6) as a very convincing Alice, a sinister Mad Hatter, a vampiric Red Queen, and a crazy Cheshire Cat. We got great reviews from our artists, with praise for the models, the costumes, and sequence of poses (see pictures here).
Then we got some bad news that turned into good news... The American Legion in White River Junction, VT, where we had been meeting informed us that they would be shutting down. Just when it seemed like we had gotten our groove back! One of our regular attendees contacted me to see what the next session was going to be. I told her that, due to the loss of our venue, there may not be a next session... Our heroine jumped into action, and next thing I knew we had a new home! From now on, Dr. Sketchy of the Upper Valley will be meeting every sixth Tuesday in the events room beneath Triple Play Cards & Comics in the Glen Road Plaza in West Lebanon, NH. Our next session, "The World of Nikola Tesla," will be held at 7:30 on Tuesday, December 11. The other cool thing about this change is that this will be a BYOB venue. Admission will be $10 at the door ($8 in advance) with a $2-per-drinker surcharge for those who which to bring alcoholic beverages. This is particularly fantastic news for the hipsters of our community who, instead of paying $5 per beer at the Legion bar, can now buy a whole 6-pack of Pabst Blue Ribbon for the same price!
RSS
NYC Events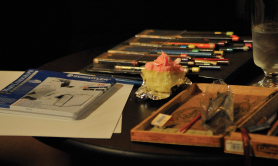 Art Tumblr
https://vimeo.com/81362468