Sat, October 06, 2012 • Exorcisme avec/with Andréane Leclerc
Session #63 - Exorcisme
Dr. Sketchy Montréal vous invite à sa séance d'Halloween : Exorcisme. L'incroyable contorsionniste Andréane Leclerc sera notre modèle et seuls vos crayons pourront exorciser les mauvais esprits la possédant!
La séance aura lieu le samedi, 20 octobre, de 14:00h à 17:00h au Théâtre MainLine, 3997, boul. St-Laurent. L'entrée sera de 10 $ et n'oubliez pas votre cahier à dessin.
Fait intéressant : Ses talents étant recherchés au travers le monde, Andréane Leclerc a travaillé avec le Cirque Éloïze, le Cirque Nock, Pomp Duck and Circumstance et bien d'autres!
***
Dr. Sketchy Montreal invites you to its Halloween session: Exorcisme. The incredible contortionist Andréane Leclerc will be our model and only your pencils can exorcise the evil spirits possessing her!
The session will take place on Saturday, October 20, from 2:00 to 5:00 PM at the MainLine Theatre, 3997 St-Laurent Blvd. The cover will be $10 and don't forget your sketchbook.
Fun fact: Her talents being sought worldwide, Andréane Leclerc has worked with Cirque Éloïze, Cirque Nock, Pomp Duck and Circumstance and many others!
***
Commandité par / Sponsored by:
Kitsch'n Swell - kitschnswell.ca
Baby Tattoo - www.babytattoo.com
RSS
NYC Events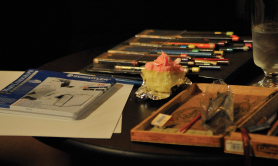 Art Tumblr
Dr Sketchy's LA 12/3/13 (pt. 1)
artofach.blogspot.com
http://drsketchy.tumblr.com/post/69132640329