Sun, September 23, 2012 • Film Noir
Le Festival Burlesque de Montréal a invité Dr. Sketchy Montréal à faire une séance dans leur salle d'exposition le 22 septembre. Pour cette belle occasion, nous avons présenté un thème inspiré des films noirs. Miss Sugarpuss et Cherry Typhoon étaient nos superbes modèles.
***
The Montreal Burlesque Festival invited Dr. Sketchy Montreal to host a session in their exhibit space on September 22. For this lovely occasion, we presented a film noir-inspired theme. Miss Sugarpuss and Cherry Typhoon were our awesome models.
Pour visionner le blogue complet de la session, visitez : Dr. Sketchy Montréal
***
To view the full session blog, visit: Dr. Sketchy Montreal
RSS
NYC Events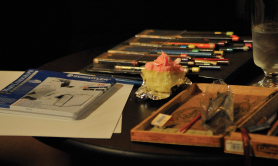 Art Tumblr
https://vimeo.com/81362468