Sat, September 08, 2012 • Film Noir avec/with Miss Sugarpuss & Cherry Typhoon
Session #62 - Film Noir
Dr. Sketchy Montréal vous invite à son prochain événement : Film Noir, un atelier de modèle vivant meurtre et mystère interactif! Dans le cadre du Mois Burlesque de Montréal, venez dessiner les fabuleuses comédiennes burlesques Miss Sugarpuss et Cherry Typhoon, qui auront besoin de vos crayons pour trouver le meurtrier!
L'enquête aura lieu le samedi, 22 septembre, de 14:00h à 17:00h au 227 Notre-Dame Ouest, situé au coeur de l'historique Vieux Montréal. Vous aurez l'occasion de dessiner entouré de l'Exposition du Festival Burlesque de Montréal : voyez des peintures, photographes, costumes burlesques et bien d'autres, du passé au présent! L'entrée sera de 10 $ et n'oubliez pas votre cahier à dessin.
De plus, nous soulignerons le 5e anniversaire de Dr. Sketchy à Montréal et vous aurez la chance d'y gagner une paire de billets pour le Festival Burlesque de Montréal, courtoisie de la magnifique Scarlett James.
Fait intéressant : Cherry Typhoon et Miss Sugarpuss porteront des costumes vus dans le spectacle à succès Bad Ladies and the Detective!
***
Dr. Sketchy Montreal invites you to its next event: Film Noir, an interactive figure drawing murder mystery! As part of the Montreal Burlesque Month, come draw fabulous burlesque performers Miss Sugarpuss and Cherry Typhoon, who need your pencils to find the murderer!
The investigation will take place on Saturday, September 22, from 2:00 to 5:00 PM at Le 227 Notre-Dame Ouest, located in the heart of historical Old Montreal. You will have the chance to draw surrounded by the Montreal Burlesque Festival Exhibit: see paintings, photographs, burlesque costumes and more, from the past to the present! The cover will be $10 and don't forget your sketchbook.
Furthermore, we will be marking the 5th anniversary of Dr. Sketchy's in Montreal and you will have the chance to win a pair of tickets to the Montreal Burlesque Festival, courtesy of our wonderful Scarlett James.
Fun fact: Cherry Typhoon and Miss Sugarpuss will be posing in costumes from the successful show Bad Ladies and the Detective!
***
Commandité par / Sponsored by:
Festival Burlesque de Montréal - www.montrealburlesquefestival.ca
Kitsch'n Swell - kitschnswell.ca
Baby Tattoo - www.babytattoo.com
RSS
NYC Events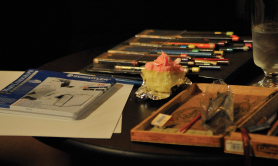 Art Tumblr
Dr Sketchy's LA 12/3/13 (pt. 1)
artofach.blogspot.com
http://drsketchy.tumblr.com/post/69132640329