Branch Blog - Melbourne, Australia
Wed, May 15, 2013 • Fire & Ice with Lux St Sin
'Fire and Ice' is the taste of desire, red hot as the sun and wild like a tempest.
"Some say the world will end in fire, some say in ice.
From what I've tasted of desire
I hold with those who favor fire.
But if it had to perish twice,
I think I know enough of hate
To say that for destruction ice
Is also great
And would suffice"
nice words Robert Frost, thanks.
And yes, Lux St Sin will be both your desire and destruction! As Fire & Ice you may just perish twice... but what a way to go!
Lux St Sin is the seductive siren that leaves you mesmerized with her heady cocktail of old time glamour and feline allure. Lux brings to the stage a unique and contemporary take on traditional burlesque showcasing acts with sinful themes, smoldering seduction and coquettish playfulness.
Over the past three years, Lux, has graced stages around Australia, including the Australian Burlesque Festival, Adelaide Cabaret Festival, the National Gallery of Victoria, Harvest Festival and Black Cherry.
Harxest Mag describes the event as "a room full of friendly people, an appreciation for art, beautiful models, unreal costumes and a truck load of fun times."
Date: Sunday May 26th
Time: 4.00am-6.00pm (Doors 3.30pm)
Bookings: Tickets on sale from Moshtix – phone: 1300 GET TIX (438 849)
on-line: http://www.moshtix.com.au/v2/event/dr-sketchys-anti-art-class-lux-st-sin-is-fire-ice/65611?&skin
or Moshtix outlets including Polyester (Fitzroy& City).
Please bring your own sketchpad and art materials
RSS
NYC Events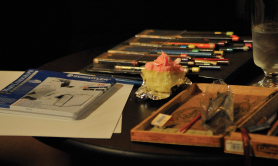 Art Tumblr