Branch Blog - Barcelona, Spain
Sat, July 27, 2013 • FIRST DR. SKETCHY SESSION IN BARCELONA. 21 AUGUST 2013
It was a beautiful summer Sunday morning.
At noon.
Inside the The Floor Art Gallery, we were all excited and nervous, setting up the table with hummus and cornsnacks, watermelons, cantaloupes, and huge jars of chilled agua de Valencia ( orange juice mixed with champagne and vodka) not knowing really what to expect.
It was a Sunday and it was too early for most people to come. In Barcelona it is too hot to do anything before four in the afternoon, but slowly, people began arriving and before we even knew it, we were all ready to being.
Enter lovely Noelia Kiros. Our model and star for the day. A petite adorable brunette with shiny eyes like stars and the most beautiful smile you have ever laid your eyes upon.
Noelia is a professional belly dancer and choreographer. She began dancing flamenco at age four in her hometown Malaga, at the south of Spain. A glimpse into her eyes and you can see the Gypsy, Jewish and Arabian blood that flows through her. And it was through those mysterious paths she led us with her first dance, that had everybody hypnotized, specially children that looked at her with the eyes of somebody who is looking at a dream. Dressed in white, dangling the most beautiful jewelry, Noelia sat through the drawing session like a sphynx, although when a two year old toddler came up to her, fascinated by her jewels, she charmed him with her smile and laughter.
Once the session was over, Noelia had a surprise prepared. She disappeared into her changing room and emerged like a warrior princess, clad in a black turban with a huge Turkish sword she balanced on top of her head.
And she danced with the sword for a long while, like a pirate queen until we could not resist ending the show with a standing ovation.
And then, a mediterranean lunch on the patio for everyone to enjoy.
Beautiful day, beautiful people. And the best possible debut for Dr. Sketchy Barcelona.
Moltes gracies a tots!
RSS
NYC Events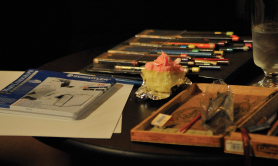 Art Tumblr