Branch Blog - Barcelona, Spain
It was a beautiful summer Sunday morning.
At noon.
Inside the The Floor Art Gallery, we were all excited and nervous, setting up the table with hummus and cornsnacks, watermelons, cantaloupes, and huge jars of chilled agua de Valencia ( orange juice mixed with champagne and vodka)...
Read Full Article
RSS
NYC Events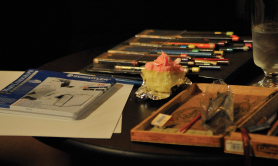 Art Tumblr
Dr Sketchy's LA 12/3/13 (pt. 1)
artofach.blogspot.com
http://drsketchy.tumblr.com/post/69132640329