Branch Blog - Dr. Sketchy's HQ
Tue, October 05, 2010 • Glow in the Dark T-Shirts and Totebags!
We're releasing new official Dr. Sketchy's t-shirts and totebags! You can check them out at The
Dr. Sketchy's Store
. They're hand screenprinted here in NYC (by Melissa Dowell!) and we have a big stockpile of them ready to ship. The image actually glows in the dark!
T-shirts run in sizes from S-XL in both men's and women's cuts. The t-shirts are fitted - similar to American Apparel and other slim cut t-shirts - and quite soft. If you need custom sizes (XS-XXXL) contact me directly. There will be a delay in your shipment as ordering the shirt/printing can take 5-7 business days. The totebags are sturdy cotton, good for hauling all your art monkey tools. If you have any further questions, please contact me as we'll be handling both printing and shipping of all orders inhouse and in Brooklyn. Hope you like them!
RSS
NYC Events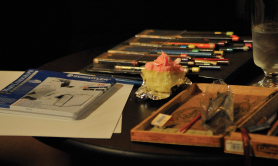 Art Tumblr
https://vimeo.com/81362468