Branch Blog - Dublin, Ireland
Sat, September 01, 2012 • Grease is the Word! - Dublin, June 2012
Our first Summer Nights session came with a very fitting Grease theme!!! Everyone at Dr.Sketchy's Dublin HQ was super excited about it. We had the stunning Epiphany DeMeanour as Sandy Olsson and Lycan Animal as heart throb Danny Zuko.
This talented pair are no strangers to the stage they also provided the sessions entertainment too. Over the course of 3 hours we saw Sandy transform from demure girl next door into a smoking hottie! (If you dont believe me check out the photos & the amazing black pants Epiphany/ Sandy is wearing.)
We got to see a whole new side to Danny Zuko as he gave us a fantastic cross dressing rendition of Look at me, I'm Sandra Dee. Things heated up with their rendition of You're the one that I want as there was slight hint of bondage! As Danny stripped down to his smalls he realised the T-Bird logo was missing from his underwear. Cue blushing girl from the audience to doodle the logo on his underpants!!!
The poses were hilarious and imaginative too as they had a Greased Lighting prop to play around with. We were also entertained by the films sound track, a caption competition, booze and cupcakes. And yet again the whole team pulled off a fantastic session.
It was also a day for lots of visitors and Sketchy regular models to pop in as it was the same day as the Pride 2012 Parade in Dublin City. Phil T Gorgeous and Sade O'Sapphic stopped by to say Hi! and fill us in on all the celebrations around the city for the day, which also made us a bit jealous as we would have loved to have attended and taken part in the festivities.
Michelle Noir
Photos by Cherry Sedition
RSS
NYC Events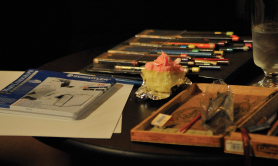 Art Tumblr