Branch Blog - Christchurch, New Zealand
Wed, November 02, 2011 • Halloween Spectacular with Ruby Ruin
October is one of our favourite times of the year - when the sun starts to shine and all the skeletons come dancing out of the closet for halloween hijinks. We welcomed back to our stage the wonderful Ruby Ruin our for Dia De Los Muertos themed sketching session. The stage was set with swathes of flowers - not just crepe ones! Set against a riot of colour and lights, an enshrined Ruby held sway over our art monkeys as they sketched her avidly.
Tawdry and Rosie were on the door - guiding our (misguided) art monkeys into the depths of drawing depravity once again!
Rosie Reckless was on hand to ensure monkey business ran jauntily.
MC Hells Belle was at the helm, ensuring there was plenty of pun and games to be had while Tawdry and Rosie kept up their tequila tolerance.
Our gore-geous model Ruby Ruin. she first graced our stage with her debut burlesque performance at our Punk Set session last year. We welcomed her back with muchos enthusiasm.
Ruby has become quite the local burlesque and tattoo icon. For more information and updates of her modelling, tattoo suit progress and general adventures - visit her website at www.rubyruin.com or find her on facebook.
A bit of gender-bending and (indecent) proposals made Tawdry's night.
Ruby's first performance had us all reaching for a cooling refreshment! Here's to drinking, drawing, death and dames!
Ruby Ruin: hotter than a jalapeno and thrice as nice, as she can-cans across the stage.
This session, we held our first colouring in competition! The prize was the stunning original poster illustration by local artist, Shannon Williamson.
"Alas poor pedro"
For her second performance, Ruby captivated us with a fan dance.
Our best dressed was a tough decision this month, with a human sized taco (taco grande!) competing with delicately paint-faced ghouls and boys, all mesmerized by Ruby's risque poses.
Ruby Ruin, spoiling us with her presence and performances!
All in all it was a theatrical, boozy and wonderful night for all. For more documentation by our ever-present and fabulous paparazzi Paige Turner, stalk us on facebook.
As usual, without the support of our amazing sponsors, we'd be pretty deadbeat. A hearty thanks to Absolution Tattoo and Body Piercing, Madame Butterfly's Vintage Style Boutique, Gordon Harris Art Supplies and Baby Tattoo Books.
RSS
NYC Events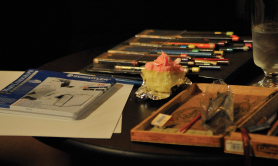 Art Tumblr