Branch Blog - Christchurch, New Zealand
Tue, October 30, 2012 • Halloween Spooktacular
We had plenty of tricks up our sleeve for our halloween session, and The Purple Rose provided the treats! She made a special trip from the far shores of Wellington to maker her Dr. Sketchy's debut. MC Rosie Reckless played host to our motley crew and kept things heading in the right vein.
Our art monkeys turned up in their undead best - what a dapper pair!
The Purple Rose stumbled into our monstrous enclave, her pristine tea-dress belying the arachnaphobic trick within!
The marvellous and multi-talented Rachael Travaille lent some of her monster bits and pieces to the mash. Check out more of her work - including some highly creative road-kill taxidermy, steampunk noir and star wars geekery projects.
Our second half introduced The Purple Rose's take on a familiar good time ghoul, serving up a bloody good time for all.
Things got messy. Just how we like it!
This devine deviant had us wanting to do real bad things with her *swoon*
Monster mash called for an exquisite corpse challenge!
With some hilarious outcomes.
The night was full of thrills, spills (courtesy of Ms. Trainwreck) and lots of laughs. The sugar rush of our candies were tempered by some of the more long lasting treats provided by our sponsors: Absolution Tattoo and Pierce, Madam Butterfly's Vintage Style Boutique, Gordon Harris Art Supplies and international sponsor Baby Tattoo Books.
Make sure to check out the other adventures that The Purple Rose got up to while in the South - she was part of Nerdlesque; a comic caberet put together by none other than Harlow Lestrange. It was a huge hit and we can't wait to see another episode!
RSS
NYC Events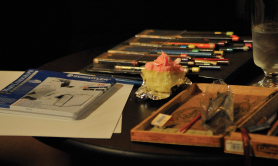 Art Tumblr
https://vimeo.com/81362468