Branch Blog - Christchurch, New Zealand
Tue, December 14, 2010 • Heavy Petting - Life Drawing and Purrlesque
For our final session of 2010 we indulged in a spot of purr-lesque. Mia Sophia was our divine feline and graced the stage at Goodbye Blue Monday for a night of purrs, furs and kitty mischief.
This was a theme made for our cat-crazy crew and MC Hells Belle sunk her claws right into it. Deputy Reckless – our cheeky canine – caused general mischief and mayhem throughout the night (man's best friend?).
Our dedicated photographer, Paige Turner got some paparazzi action this time around.
Tawdry made herself comfortable on our host, Mr. Moore's lap. We'd make great pets, no?
Our glamourpuss, Mia Sophia, kicked of the night with a song in French and fur.
Our audience accessorized suitably with ears and tails and plenty of perk. Here are a striking pair of art monkeys and resident anthropologists. Niki (on the left) is writing a thesis on the movement that is Dr. Sketchy's Anti-Art School, can you get any more dedicated?
Mia Sophia and Tawdry Trainwreck primped and posing.
Our audience participated in a Cat fight!
This was followed by various cavorting and kitteh antics, and a well earned cat nap.
With the aid of a little whiskery treat Mia performed quite the feat...
Three hoop hooplaah had our audience enthralled.
It's all fun and games till the booze runs out....
One of the winning illustrations of the evening. The challenge? Draw Mia as your favourite kitty character.
A little yarn-bondage to tie the evening up?
The cat's out of the box! For more photos from Heavy Petting, view our albums on the official
Dr. Sketchy's site
or check out our
Facebook fan page
. Many thanks to our wonderful sponsors, who we couldn't have done this without -
The Flying Burrito Brothers
,
Absolution Tattoo and Body Piercing
and Madam Butterfly's Vintage Style Boutique. Also a huge thanks to our gracious hosts
Goodbye Blue Monday
, as well as our dedicated photographers Paige Turner and Ryan Franicevic and all our brilliant helpers throughout the year! We hope Santa-Claws brings you all you want for xmas and more!
RSS
NYC Events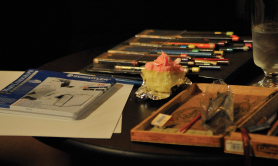 Art Tumblr
https://vimeo.com/81362468