Branch Blog - North Wales
Tue, October 19, 2010 • Hot Dang! Our new website launched today!
Quite literally a site for sore eyes... these peepers have stayed up (along with my trusty teccie in tow) for the last few days in a row to nail down the site sparkly tassels n all! There are a few pages that still need some treatment, we did not want to not reveal too much too soon... tis the very nature of burlesque n'est pas? Hope you like what you see, would relish any feedback! Take a look over at
www.drsketchynorthwales.co.uk
Just over a week to go before our first event ever!
RSS
NYC Events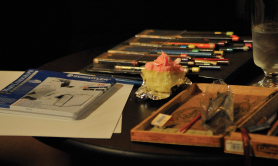 Art Tumblr
Dr Sketchy LA 12-3-13
http://drsketchy.tumblr.com/post/69027079376