Branch Blog - White River Junction
Wed, January 18, 2012 • It's Been Awhile…
So I've been slacking on keeping the website updated. My household was in an uproar over the holidays, we've had renovations going on, and I just haven't felt like myself lately. But here we are.
The last session, held in December, was "A Very Sketchy Christmas." We featured Yule C. LeBeouf as Santa and Diva J as Mrs. Claus. It was a great show and we had some really good music by Steven Neas and Alex Perry from the band Turnaround Sundown. The band will be releasing a new CD soon, and I hope they'll join us again.
The upcoming session (which is tonight, actually) is "Biker Babes" sponsored by Granite State Harley Davidson. We have two beautiful models, Yarrow and Jennifer, and their bikes. These lovely ladies will be holding a series of increasingly sexy poses in 5- and 10-minute increments so artists will have plenty of time to capture every curve of skin and steel. Door prizes tonight will include "The Art of Big City" by the renowned designer Ragnar (Baby Tattoo Books/$40), a $10 gift certificate to Bean's Art Store in Hanover, NH, and swag from the Harley store.
Next month, we'll be celebrating the one-year anniversary of Dr. Sketchy in White River Junction. So exciting! The February session "Dr. Sketchy Meets the King" will feature an Elvis tribute artist who will be both our model and our entertainment for the night. There will also be cake! Who doesn't love cake?
RSS
NYC Events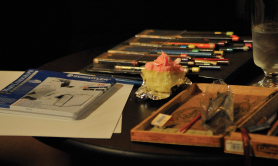 Art Tumblr
https://vimeo.com/81362468