Branch Blog - North Wales
Thu, November 17, 2011 • I've been an awful good girl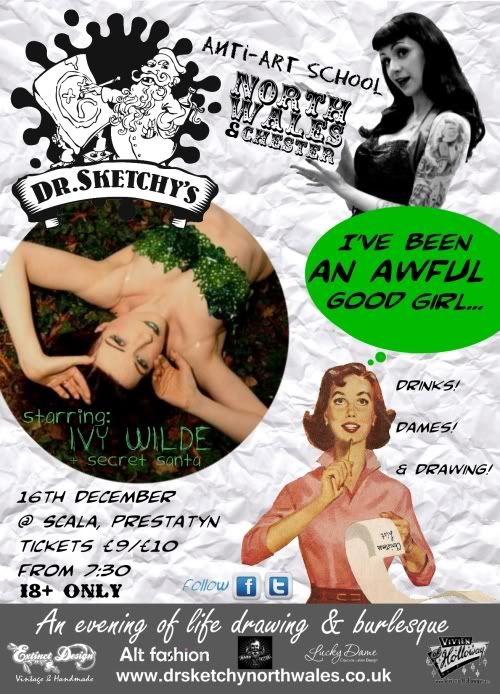 Are you awful at being a "Good Girl?" Yeah... its kinda our thing too.
So celebrate in the best way possible by coming to see Burlesque Starlet ~ IVY WILDE this Christmas at Saronies Bar at The Scala Cinema & Arts Centre
Here be those important details:
You don't need to bring a thing! Paper and pencils are provided. But if you prefer to bring your own materials, please make sure wet/messy items aren't any more than a neat watercolour set.
As with every Dr. Sketchy event - expect burlesque performances, plenty of sketching challenges, prizes and all within a good few feet of the bar!
Its art that doesn't take itself too seriously.... to make seriously good art. The kind of class that embraces the "you are where you are" philosophy and just enjoy the ride... the scenery is swell ;P
We LOVE it when you dress up to match our themes too! But theres no pressure ~ wear what you want.
Tickets advance/ - £9.00... however... as we want to bring new folks into the fold we're hoping you can bring along a newbie, fresh meat as it were (you know the ones, the ones who would LOVE a Dr. Sketchy night out but say "but I cant draw :/")
We would like to offer them a free Hall Pass with your ticket. All you need to do if you're buying a ticket online include their name at checkout or when you reserve by emailing
So in a round about way I guess its 2for1. Ha! But do bring newbies in we want to grow this branch to be the BEST night out in the land!
The more we can get the bigger, more frequent and more elaborate we can be!
I would just like to thank all our wonderful loyal pupils for attending these events, without you guys there it'd just pretty much be a night of tease for me and Big G!
All tickets sold on the night are £10.00
Your Headmistress
Madame Ex
RSS
NYC Events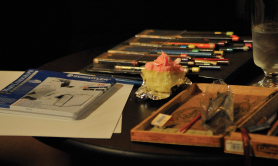 Art Tumblr
https://vimeo.com/81362468