Branch Blog - Christchurch, New Zealand
Sun, May 13, 2012 • Jailhouse Jezebel
Our latest sketchy escapade was all about unsavoury sorts. Bad girl Jesika Rabid made her sketchy debut as our debauched delinquent muse and nicked off with our hearts in the process.
Our art monkeys were all booked upon entry - mug shots captured the usual suspects, as well as some fresh recruits! Rosie Reckless was on hand to play warden to our convicts; who were on their baddest behaviour.
Our newest trouble maker was thrown behind bars, but you can't cage her hotness!
We were all guilty of swooning when Jesika Rabid was led out in chains.
This jailhouse jezebel has killer curves. Warden Rosie Reckless is keeping an eye out for any trouble-makers.
Guilty until they can illustrate their innocence; many of our art monkey's have spent plenty of time (drinking) behind bars.
Remorseless as ever; Tawdry Trainwreck is a repeat offender.
Everyone had a riot on the night.
We sketchy girls are not above toilet humour...
Bang bang... this noiresque beauty had us captivated!
It's gotta be a crime to look this good.
The crew from Absolution came along to perform sweet inky antics on Jesika. Our audience documented the process with their own pointy implements.
Alongside the temporary tattoos gracing our model, the crew drew up some sweet flash art transfers to make our crims and crooks feel more (i)legitimate.
So long and shanks for all the flesh! Jesika got the better of Warden Rosie in our final pose!
It was a great night had by all, with Jesika Rabid adding to the argument that that bad girls do it better. Meanwhile, Tawdry's still awaiting her conjugal visit from the peenal system in the sweet cell made especially for the show by local props maker and special effects genius - Dextar FX.
Our sponsors are our co-conspirators and do justice to every sketchy event! Show them your support and stop on by - Absolution Tattoo and Body Piercing, Madame Butterfly's Vintage Style Boutique and Baby Tattoo Books.
To see more of our shady carrying ons from this session, visit our album on facebook.
RSS
NYC Events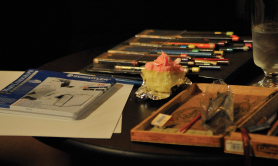 Art Tumblr
Dr Sketchy's LA 12/3/13 (pt. 1)
artofach.blogspot.com
http://drsketchy.tumblr.com/post/69132640329