Wed, December 05, 2012 • January 6th, 2013 - Ruby Joule


Ruby Joule by GracefullyWicked
Join us on January 6th to draw the incredible Ruby Joule.
This event is 5-8pm. At The Volstead on E. 6th (part of Hotel Vegas) $10 to draw, payable via paypal (yellow button on AustinSketchy.com) or cash at the door. Please bring your own art supplies & tips for our models.
Ruby Joule has been performing her award-winning acts all over the continent from Montreal to Las Vegas to Bourbon Street since 2006. She has been awarded "Most Original," "Best Costume," and "Texas Performer of the Year," honors, and she is a founding member and co-producer of The Jigglewatts Burlesque in Austin, Texas. An avid student of both classic and neo burlesque, she has studied with some of the greats including Joan Arline, Ellion Ness, Michelle L'Amour, and Jo Weldon, and she also co-taught a world dance workshop at BurlyCon 2011. Her style dances the spectrum from the whimsical to the enigmatic, and she is known for her effortless grace, formidable elegance, and the lavish glamour of her routines. Model, music video queen, film actress, international burlesque sensation, and writer for Rockabilly-Online Magazine, there aren't enough hours in the day for this lone starlet!


Photo of Ruby Joule by Photolena at the Montreal Burlesque Fest
RSS
NYC Events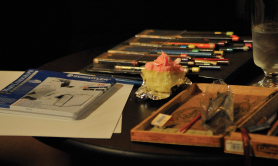 Art Tumblr
Dr Sketchy's LA 12/3/13 (pt. 1)
artofach.blogspot.com
http://drsketchy.tumblr.com/post/69132640329