Branch Blog - Millville, NJ 08332
Sat, October 23, 2010 • Jazz Festival
Over our summer hiatus, while we were doing anything but hiatusing, we were approached by a committee member from the Olde Kings Jazz Festival. They had attended a few Dr. Sketchy sessions in the past and wanted to know if we would be interested in being part of their 2010 festival. I'm always excited to bring my branch to festivals and other such art events, but need to keep that excitement in check until I get more information. I proceeded to look up everything I could about the event online, converse with people who had been involved or attended in past years and lastly, I made sure to visit the venue that was interested in hosting us. Well, even if everything hadn't checked out, and even if the venue and it's owner weren't as fantastic as they were, I would have to have done the event for the simple fact that everyone involved was just so darn nice. It really makes a difference when people are enthused about what we are all about. Plus, they answered all my questions in a timely manner and ran a really professional setup in getting our branch there and in handling the behind the scenes paperwork, etc. The venue was already determined for me and a band was selected to perform at the same locale. After visiting the town and seeing the venue, I knew we had a good fit and knew exactly who I wanted to have a my models. Candy Mayhem has posed for my branch a few times in the past. A gorgeous lady both inside and out, I knew her style, grace and poise would be a good match for a 1940's esque festival and a venue that pays tribute to beauties from the golden age of film. I also wanted Little Darling to be there as well. She is a great model, and has posed in the past for the Philadelphia branch. Due to scheduling conflicts there was never a time I could book her and was sorely disappointed by that. This time however, she, along with Candy, readily agreed to be there. With 2 fantastic models booked, it was just a matter of generating a promo and spreading the word. I had the props for the stage dressing already under control. The majority of the decor in my house looks like the 1940's came and never left. So I knew I had that in the bag. To top it off though, I contacted a good friend of mine and past fellow colleague, Tony, owner of Audio Lab a local recording studio. He was so kind as to lend me 2 vintage mics and a mic stand to help complete my stage setup. Unbeknownst to me, the onwer of the venue asked the jazz trio that would be playing along with our session to bring one of their stand up bass's just so the models could pose with it. I love when people think like that! Paul, of Final Touch Salon, had never been to one of our sessions, but he was excited to host us and really got into the whole setup and concept of Dr. Sketchy's. The promo was a hit, but with 2 beautiful ladies like Candy and Little Darling, how could it not be??? But, it was a hit and it started to generate a buzz. The week leading up to the festival was just windy, rainy and miserable. Not that that would effect my session all that much as we were inside, I was still worried that people wouldn't want to walk about in the cold misty rain. Well, no worries as the weather cleared up and we had a gorgeous day/night ahead of us! We rolled to the venue early to get setup and again, Paul the owner was all too willing to help. I think he would have renovated existing walls if I asked him too. But that was not necessary:) The venue is just a beautiful place and there is a nice picture window that juts out into the public walking space outside. It is well-lit and served as a perfect staging area for my models. Not only were they raised up from the floor for everyone inside to see, the view from outside was intriguing. I knew putting them "on display" like that would draw a crowd and it did. To add even more interest, the band decided to play outside. People would stop to listen and inevitably come inside. How could you not???? At one point, we even stopped the crowd by having Little Darling go out and pose with the band. Everyone, including the monkeys ran outside, sketch pads in hand. As the night grew, so did our audience. Some people stopped by out of curiosity, some came specifically because they heard we were going to be there and some wound up at our venue because word was getting around that we had the coolest show in town. No doubt. People couldn't believe our models could sit so still and were thrilled to be able to get sneak peeks at what the monkeys were drawing. The night flew by and before we knew it, the end of the session rolled around. Sadly we had to call the last pose and pack it in for the night. We had an amazing time and would like to thank the following people:
Olde Kings' Jazz Festival
Gloucester County Cultural and Heritage Commission All the good people, especially Paul, from The Final Touch Salon
Fireball Printing
Madcow Designs
Audio Lab
The Band Black Light District Candy Mayhem and Little Darling Nicola Black for taking some pics for me and to all those who came out in support of our branch. Thanks so much and hopefully we'll see you next year!
RSS
NYC Events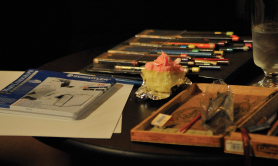 Art Tumblr
https://vimeo.com/81362468