Branch Blog - Dublin, Ireland
Tue, July 13, 2010 • June: Zombie Visitors & Gender-bending!
Apologies for the huge delay in posting June Sketchy's Blog post! I hope you'll agree that the photos are worth waiting for!! June Sketchy's clashed with two notable events, Dublin Pride Week – which culminated in the Pride March the day of Sketchy's and The Dublin Zombie Walk. As you know, at Dr. Sketchy's Dublin, we are BIG fans of zombies, but as our last event had a distinctly undead theme, we didn't want to be repeating ourselves!! We are also massive fans of diversity, equality and social acceptance. Unfortunately, we were too late to officially tie in with Dublin Pride, but that didn't stop us showing support in our own special way. We blew up rainbow balloons, and our stunning models Postmodern Sleeze and Lilly DeValle donned suits for a spot of gender-bending. The girls looked amazing and the costumes had a distinctly 'film noir detective/ intrepid reporter' feel to them. The style leant itself to some brilliant poses with the girls interacting really well with each other, from interrogations through to whispered confidences. I can't wait to see them model again, and hope they will come back soon! Of course there was the return of 'cupcakes or shots' option for competition winners, and very few opted for shots with the yummy cupcakes the much preferred option!! We were joined mid-session by marchers from both The Dublin Pride Parade and The Zombie Walk (in full zombie make-up I might add!) The following day, we had scheduled a photoshoot with the brilliant Griffpics and the girls, so rather than take up his whole weekend, Griffpics sat out June's Sketchy's but was ably replaced by Trixie Belle, who captured and edited the shots below. Thank you so much for the fantastic shots! The next Dr. Sketchy's Dublin session is fast approaching on 31st July (Book your Tickets NOW!) and we have some GREAT news! The Twisted Pepper have refurbished the Mezz, removed the old bar and the fixed seating and installed a proper STAGE! We haven't seen the improvements yet, but will report back when we do. We should have BOTH the cafe and the bar open from 3pm, and we are looking into a more palatable shot option – you don't seem to be loving the sambuca – suggestions gratefully accepted!
RSS
NYC Events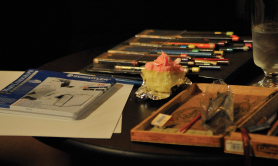 Art Tumblr
Alvin Black III
Frosty's going to melt…at Jingle Belle, Dr Sketchy Chicago Branch
Model: Rhonda Vous

my work on facebook: https://www.facebook.com/AlvinthethirdPainting
http://drsketchy.tumblr.com/post/70620589200