Branch Blog - New York, NY
Tue, January 10, 2012 • Justine Time
Keith Jensen has uploaded his interview with Justine Joli that followed her Return of the Jedi session.
Backstage with Justine Joli from Dr. Sketchys on Vimeo.
Just as a point of accuracy, no, Justine is not the first model to pose nude at Dr. Sketchy's Anti-Art School. In fact, if the police are reading this, then nobody has ever been naked at Dr. Sketchy's.
Also, Dr. Sketchy loves you, too, Justine.
RSS
NYC Events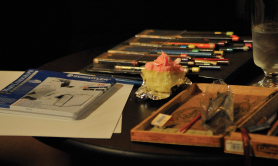 Art Tumblr
Dr Sketchy LA 12-3-13
http://drsketchy.tumblr.com/post/69027079376