Branch Blog - Knoxville, Tennessee
Wed, July 27, 2011 • Knoxville Art Monkeys Unite!
Knoxville is getting sweeter every day...and here's the proof: a Dr. Sketchy's Anti-Art School will be opening soon in Knoxville, Tennessee! Awwww yeah....you read that right, the anti-art school movement that combines cabaret, sketching, booze, dames, revelry and more is setting up shop here in the heart of East Tennessee. You can find out about all the latest news and announcements right here or by joining our FACEBOOK fan page HERE. We will be announcing our grand opening slated for September 2011, so sharpen those pencils and grab those sketch pads...the revolution is near.
RSS
NYC Events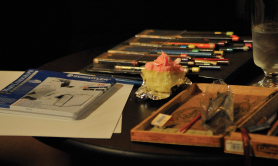 Art Tumblr