Sun, July 31, 2011 • KO!
Nous avons tenu une séance de soir au
Studio Technique
en date du 30 juillet. Nous y avons reçu comme modèle la jolie et féroce Ronda Derocher, qui a posé en boxeuse! *** We held an evening session at
Studio Technique
on July 30. There, we welcomed the lovely and feisty Ronda Derocher as our model, who posed as a boxer!
Pour visionner le blogue complet de la session, visitez :
Dr. Sketchy Montréal
*** To view the full session blog, visit:
Dr. Sketchy Montreal
RSS
NYC Events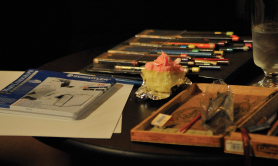 Art Tumblr