Thu, November 25, 2010 • La Baker
"
A violinist had a violin, a painter his palette. All I had was myself. I was the instrument that I must care for.
" - Josephine Baker
Le 20 novembre, nous avons eu le grand plaisir de dessiner la modèle
Steam
, qui est venue incarner l'unique Josephine Baker. Quelle session mémorable! *** On November 20, we had the great pleasure of drawing model
Steam
, who joined us to incarnate the one and only Josephine Baker. What a memorable session!
Pour visionner le blogue complet de la session, visitez:
Dr. Sketchy Montréal
*** To view the full session blog, visit:
Dr. Sketchy Montreal
RSS
NYC Events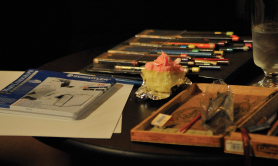 Art Tumblr