Branch Blog - Charleston, West Virginia
Wed, January 12, 2011 • Launching in West Virginia!
No, not Roanoke.
Charleston.
The other one. It's the capital. The Capital of West Virginia. Yes, that's a state now. Since the Civil War. Sound familiar? Did this conversation hit a little too close to home? Charleston, West Virginia, is getting her own branch of Dr. Sketchy's Anti-Art School. Our first event will be on March 20th at the World Famous Empty Glass Cafe. Enjoy drinks, dames, and drawing without the perplexed looks of the other art monkeys when you tell them where you're from. Our first show "A Little Bit Country, A Little Bit Rock 'N Roll" with Conway Titty and Pepper Fandango fits in right at home at the Empty Glass. It's no coincidence this is the Sunday right after the first Art Walk of the 2011 season. Maybe you'll see us there *wink wink*. Keep your eyes peeled (unless you're the police).
RSS
NYC Events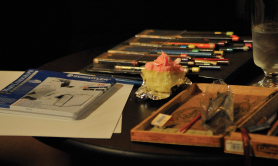 Art Tumblr
The results of tonight's Dr Sketchy's session :D
http://drsketchy.tumblr.com/post/69489605480