Branch Blog - North Wales
Sun, April 17, 2011 • Lucky Dame!
Hot Dang! Ever had one of those days where everything just turns out perfect? Like some beautifully choreographed Sketchy's Ballet... I had a day like that the other week when Eve, Designer & Creator of
Lucky Dame - Couture Latex Design
got in touch to talk about the possibilities of fusing her luxe latex range of dresses, lingerie and whimsies with a Dr. Sketchy's North Wales event! Talk about LUCKY!! I was only drinking in her beautiful designs weeks before willing them to be mine… I'm thrilled to announce Lucky Dame as our newest Sponsor & Co-costume sponsor for our Right Royal Event on 28th April! Lucky Dame has generously offered to loan us some of these handmade garments for our excited Bride-to-be (Georgia Honey) Eye-popping designs huh? Such sexy sophistication, glamour, design and beautiful colour palette ~ I'm in a rubbery heaven! Do go and offer a Dr. Sketchy's welcome by visiting the
website
,
facebook
and
Twitter
Come and see the real thing in Saronies Bar, 28th April from 7:00 - full details on our newly crafted website
http://www.drsketchynorthwales.co.uk
A selection of the
Whimisies
will be available to buy at Royal Wedding Event - Surly better than a commemorative mug?
RSS
NYC Events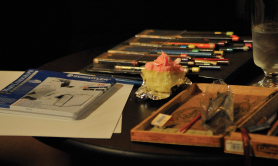 Art Tumblr
https://vimeo.com/81362468