Branch Blog - Christchurch, New Zealand
Sat, February 18, 2012 • Madonna of the Bowling Green
We got into the groove of 2012 with an ode to the queen of pop and (at times, somewhat sketchy) style icon: Madonna. Desperately Sketching Susan had our art monkeys scrabbling for tickets, resulting in a packed house to welcome our diva-licious demi-goddess - Willow Noir. Willow made a special trip down from the windy shores of Wellington to model and perform for us and we were utterly stoked to have her!
The Madonna of the Bowling Green: Willow Noir
Thrice as nice! Lady Madonnas: The light side, the dark side and the holy-moly-beejeezus-you'll-take-someone's-eye-out-with-those-cone-boobs-of-glory side! (In other news: Rosie's Reckless lazer-tits trend continues)
Strike a pose!
Willow's first performance, touched us (for the very first time) as she sashayed around the room and shimmied into something a little more... sketchable.
Many a Chch art monkey became enamoured of our model. She had us wrapped around her lace-gloved finger!
Willow answered our prayers as a stunning model and cheeky performer!
Like an Icon, Willow rocked a costume change and provided plenty of thrust and grind in her second performance.
For more information on Willow Noir - glamorous pin up model, entertainer and all round good time girl - find her on facebook.
Our resident paparrazi-perv, Paige Turner and the winner of our embellishment drawing competition. We challenged our art monkeys to illustrate the new scandal being splashed across gossip-rags about Madonna (We only wish it were true!)
Best. Suprise. Boobie prize. Ever.
Facebook says no to nipples. We choose to say "YES PLEASE! Let glorious nipples reign supreme; this ain't the Superbowl!"
Our material girl musing.
It's great to be back and in the flow of sketchy shenanigans once more! For more photos and a update from the Chch Sketchy girls, find us on facebook.
We thank our lucky stars for our sponsors - Absolution Tattoo and Body Piercing, Madam Butterfly's Vinstage Style Boutique and international sponsor Baby Tattoo Books!
RSS
NYC Events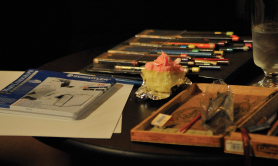 Art Tumblr
https://vimeo.com/81362468